Roadside Billboards in Belfast
One of the oldest and most traditional forms of marketing, roadside billboards in Belfast and roadside advertising, in general, has evolved greatly. This form of outdoor advertising remains a favoured marketing medium with modern advertisers because of its prominence and proven success.
Roadside advertising has certainly stood the test of time and remains one of the most popular forms of out of home advertising with our clients here at Billboard Advertising UK. We have a full variety of roadside billboards to choose from in key locations which typically includes options such as phone box kiosks, 6 sheets, 48 and 96 sheets.
Prices typically start at £170 for a two week period but read on for more information about the various options available.
If you are interested in hiring roadside posters for your advertising campaign drop us a message today and we can give you more information on locations, availability and costs.
What is Roadside Advertising?
Roadside advertising and roadside billboards are basically large poster sites positioned at the sides of roads and motorways used to promote goods, services or products.
This form of outdoor advert started off as murals painted on the exterior walls of buildings in the 1790s and their purpose was the same as today; to promote businesses and products. Certainly, by the early 1900s, the usage of roadside billboard advertising had expanded and was being used by national, commercial and public service companies to promote their products and services, as well as still being the favoured form of local business advertising.
As the years went by this popular form of advertising grew and grew before it blossomed into the sophisticated roadside advertising you see today which includes a whole range of sizes and both traditional printed and digital options.
Roadside Banner Advertising Options
There are now many varieties of roadside billboard advertising options that you can choose from for your campaign including:
48 sheet posters - these are the most standard and popular size of roadside adverts. They are typically found at roundabouts, traffic lights, outside stations and shopping centres.
96 sheets - these very large posters (double the size of 48 sheets) are highly effective as they are so large.
Bus stop ads - there are options to consider when looking at bus stop ads, including posters, seat branding and more.
LED screens - bright, impactful and colourful LED screens are popular and affordable for many, particularly effective in the evenings and darker months.
Motorway advertising - banners and roadside advertising options on motorways include static billboards, ad-vans and LED screens.
Stationary ad-vans - old-school but sill effective, ad-vans are basically vans with have posters attached. Often cheap and they can also be moved around from location to location.
Printed PVC banners - often printed banners affixed to railings are effective, especially in places where there is traffic.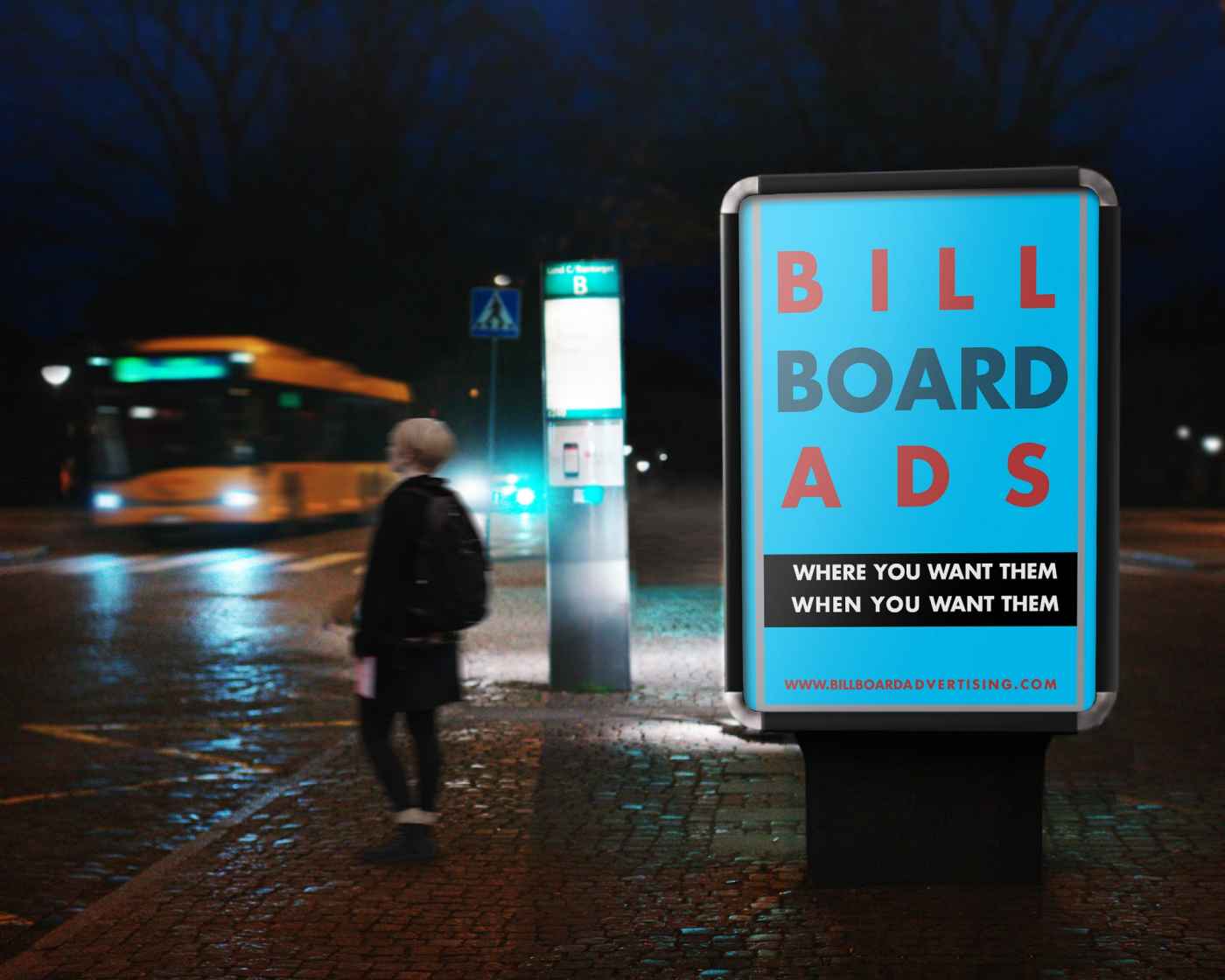 Benefits of Roadside Billboards in Belfast
Roadside billboard advertising garners high levels of exposure and is an effective way of getting brand messages out to a mass market quickly. A bold and eye-catching roadside billboard advert has a high level of recall from audiences that have seen it.
Unlike other mass media marketing communication channels, roadside billboards can't be switched off. This means they are always present – they are illuminated at night or even backlit billboard ad options available should these be of interest. This means that even if a consumer isn't feeling open-minded or receptive to see an ad, it's still unavoidable and so the message will always be seen.
Roadside billboard advertising is one of only a few marketing methods that give the brand full creative authority over the advertising space, displaying it 24 hours a day, 7 days a week, for the period chosen.
The impact of road billboard advertising is therefore great and offers a fantastic return on investment.
Roadside Advertising - A Broad Marketing Spectrum
This type of street billboard advertisements is potentially seen by anybody out and about. It's often considered that only drivers are exposed to this form of advertising but that's simply not true; instead, the below all see these advertising billboards on their travels. :
Drivers
Passengers
Those using public transport
Cyclists
Pedestrians
If you would like costs and more information on roadside adverts contact us today for more information and FREE quotes.
Cost of Roadside Billboards Advertising in Belfast
The cost of roadside billboard advertising varies, so answering the question "how much is a roadside billboard ad?" or "how much does it cost to rent a billboard" can be tricky.
Factors which generally determine costs are:
The type and format of the roadside advert - one of the many benefits of roadside ads are the variety of options. These options mean that most budgets can be catered for. Options include 48 sheets, LED screens, ad-vans, bus stop ads and more.
The length of a cycle - put simply how long you want the roadside advert to be displayed.
How many you want - the number of billboards you want will obviously impact the price.
Locations - some locations and placements are more expensive than others, places of high footfall are more expensive.
Time of year - some times of years (Easter, Christmas etc) are more expensive due to being popular with advertisers, so it is advisable to book in advance where possible.
For more in-depth information please read our costings section where we go into more detail about the standard costs of UK billboard advertising. At Billboard Advertising we also manage the relationships with each of the billboard company suppliers and owners in the area you're targeting. We will also negotiate the best rates and take the hassle right out of your hands.
It is worth noting that there are numerous companies offering billboard advertising space and placements across the UK but at Billboard Advertising we believe it is our job to not just offer cheap billboard advertising but also supply sites that are going to achieve a great return on investment. We believe that there is no point saving a few hundred pounds on a campaign to find your billboard doesn't deliver the results you want.
For more information and FREE quotes on your roadside billboard adverts contact us today.
Road Billboard Ad Sizes
Billboard sizes can vary and there are many options to consider when looking to implement this type of out of home advertising.
The main billboard ad types as part of a roadside advertising campaign are outlined below, although for more info, drop us a message:
48 sheet posters - the standard and most typical roadside advert size are known as 48 sheets. 48 sheets are an affordable and popular form of marketing and are used in both local billboard advertising campaigns as well as by large national outdoor campaigns by major brands all over the UK. A minimum booking period for a 48 sheet is typically 2 weeks. It is worth pointing out that the best 48 sheet poster sites get booked in months in advance, so where possible plan ahead to achieve the best outdoor advertising positions. Some other outdoor billboard companies will get you 48 sheets very last minute (and we can do this if you like), however, buying sites late often mean they are not very popular and sought after, so advise caution with such purchases. Buying late and cheaply isn't always buying sensibly.
96 sheet posters – these are giant posters! They are basically double the size of 48 sheets. 96 sheets are massively impactful and can be found in prime, high traffic locations as well as at roadsides and even at the side of motorways. For more information on 96 sheet posters visit the following page - where you will find 96 sheet specifications and 96 sheet dimensions. 96 sheets are similar to 48 sheets in terms of booking periods as mentioned above, so please bear that in mind.
If any of these two popular types of roadside ads are of interest to you and you'd like to know how to rent a billboard at these particular sizes please contact Billboard Advertising today and let us know where you would like them and when you'd like your campaign to start. We will be in touch with costs and availability.
Street Billboard Advertising Placements
Street billboard adverts and roadside advertising billboards can be used en masse to hit a large cross-section of society nationally or then can be more targeted to a locale, whereby a specific audience can be reached.
For example, local businesses can choose to focus on just one area, even signposting customers towards their premises. We, therefore, find many local advertisers use billboards very close to the services they are promoting e.g. restaurants often take billboards close-by to their eatery, taxi firms often take large billboard outside their premises etc.
These types of outdoor ads are great for announcing your presence in an area and there are options to suit most budgets. Simply drop us a message to find out more information today.
Messaging on Roadside Advertising Billboards
Roadside billboards can be used either as a primary marketing channel or as part of a wider marketing mix for your campaign. Your overall brand proposition should remain clear and consistent, but messaging can be changed and tweaked depending on the channel used. However, as people can be driving by at speed we suggest strong imagery and strong catch-phrases; potential customers don't have long to read – get to the point!
If you would like more advice or help with the design of your roadside banner advertising drop us a message today.
Why Use Roadside Billboards?
Roadside billboard advertising enjoys high levels of public exposure and can make an excuse to get creative with messaging. Highly adaptable to audience segments in terms of both socio-economic demographic and geographic location, using roadside billboards to communicate marketing messages is a time-favoured communications channel that boasts high levels of success again and again.
Roadside Billboard Considerations
When selecting the type of billboard on which you'd like to advertise, it's important to take into your account your audience, your messaging and your budget.
Digital billboards are the easiest roadside channel upon which to change, adapt and update adverts but these are few and far between in some locations and can't be bought everywhere. Standard roadside billboard advertising can't be so easily changed, but using them creatively can make a real impression and deliver an unforgettable marketing experience to the viewer.
Roadside Advertising Ideas
In 2014, Beck's Beer used billboards that played music, but since then many brands have used imaginative graphic creatives to make an impression; including Bic who 'shaved' grass with fake razors and Ford, who used spinning wheels on roadside posters to billow smoke.
We will help advise you on the creative process and implementation from end to end to best achieve the success of your marketing and make you stand out from your competitors, either as part of a wider communications strategy or as a primary channel.
Roadside Banner Advertising Summary
An ever-evolving form of outdoor advertising, which has stood the test of time, roadside adverts continue to be a favoured form of advertising for many. Offering great value for money and return on investment they successfully work for a full range of businesses and industries.
Contact Us
If you are considering roadside advertising for your company, service or product, simply drop us a message today.
We'll help you convert your brand vision into reality and you'll soon be seeing your messaging on roadside billboards in Belfast and busy pavements, please use the contact us box on this page and give us a bit of information about what you are looking for.
We look forward to hearing from you!
Topics covered - roadside banner advertising, digital roadside advertising, temporary roadside advertising signs, roadside advertising guide, digital roadside advertising.